http://www.donegaldaily.com/2013/04/12/heading-to-the-top-of-the-world-jason-gets-bhuddist-blessing-on-way-to-everest/
HEADING TO THE TOP OF THE WORLD! JASON GETS BHUDDIST BLESSING ON WAY TO EVEREST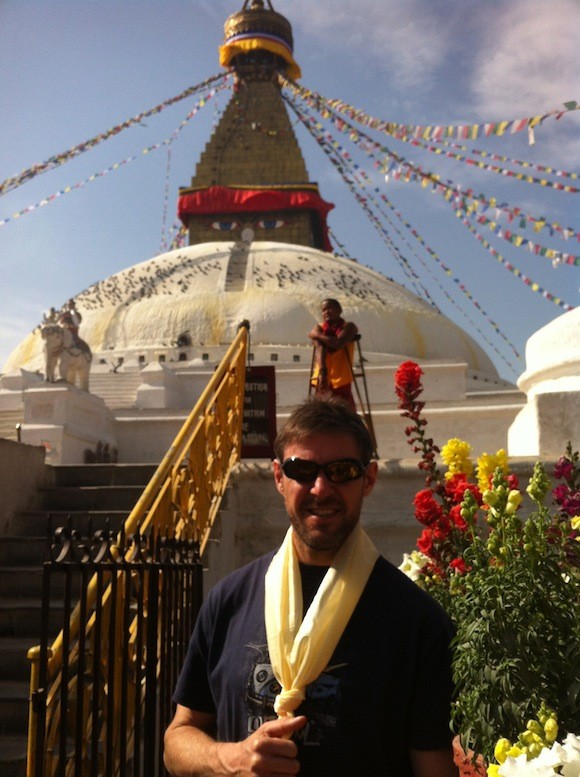 Jason Black in Tibet after receiving his Blessing
DONEGAL man Jason Black has arrived in Nepal ahead of his epic climb to the summit of Mount Everest.
The owner of the Voodoo nightclub complex in Letterkenny is aiming to become the first Donegal man to climb the world's highest mountain.
And he isn't planning to do it the easy way….he's planning to climb the North Face.
Jason went to a Bhuddist temple in Kathmandhu for a 6.30am special ceremony where mountaineers are blessed before beginning their 29,000-ft ascent.
Then it was off to Tibet via China to prepare for base camp.
And then all the planning ahead of the climb.
"It will be my first time in Tibet so looking forward to the sights, sounds and smells there," said Jason.
"I had the mountain blessing for Mt Everest by the Lama this morning at 6.30 am napal "1am ireland " for morning prayers. It was quite a humbling experience as a pale white westerner in front of hundreds of Tibetan monks."