Aconcagua summit at 6962m high is the highest mountain in the Western hemisphere and the highest mountain in the world outside the Himalayas. Mount Aconcagua, the Stone Sentinel, is most worthy of your attention, being the second highest of the Seven Summits.
This is a Personally lead 19 day expedition by Jason Black on the Vacas Valley route. The route is non-technical, there is no need for years of experience of climbing on rocks or ice. Despite its lack of technical challenge, there is still a high level of fitness required. The altitude and the weather and the high level of self-sufficiency required pose the biggest challenges, so this is not a climb for the uninitiated.
This expedition is more physically and mentally demanding than mountains like Mount Elbrus or Mount Kilimanjaro, requiring a good working knowledge of camping, cooking and cold weather survival skills. Fitness is important there is more self-carrying of loads up to around 15 kilos at altitude. The trip is expedition style and the route involves a 3 or 4-day walk-in to base camp followed by two or three high camps before the Aconcagua summit day. We recommend a good period of preparation for Aconcagua and i will help with as much advice as possible.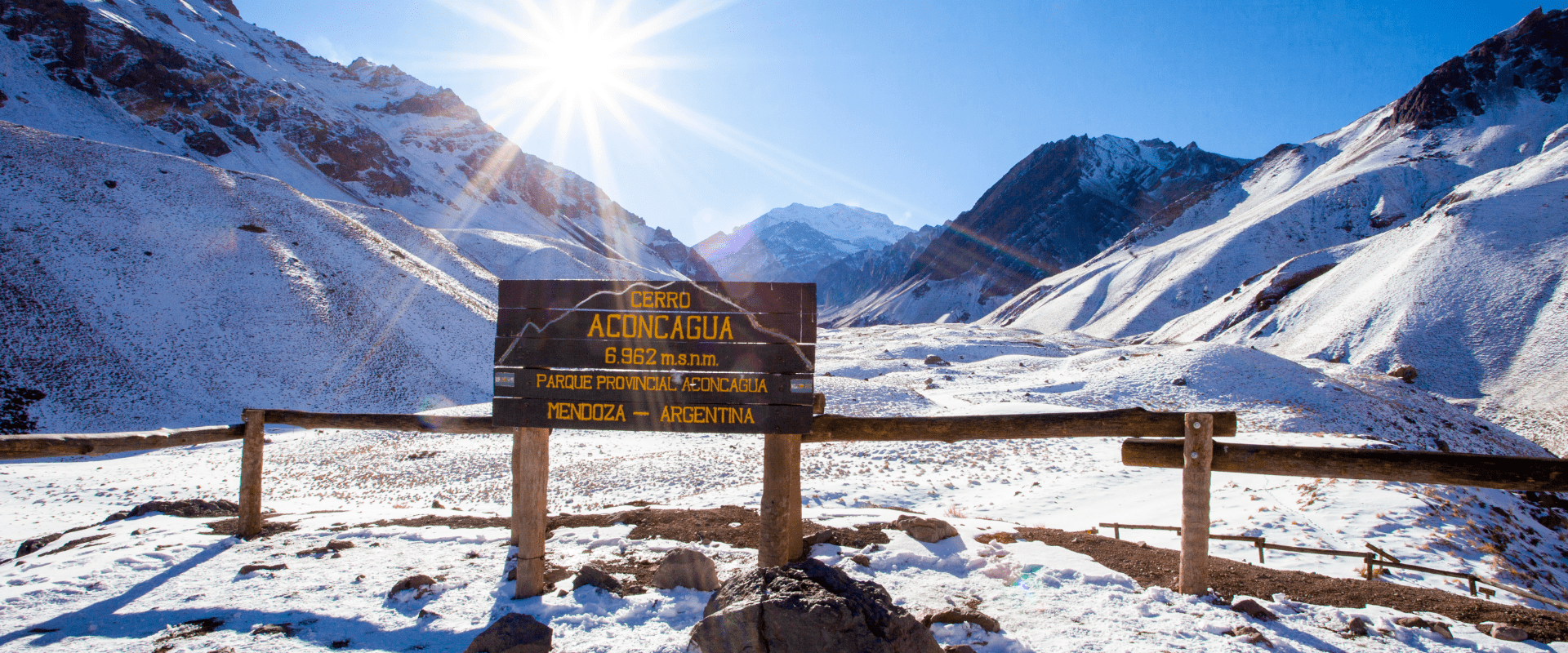 Book Aconcagua Expedition
Hotel in Mendoza for 3 nights (bed and breakfast) and a hostel in Puente del Inca (bed and breakfast)
Transport to the National Park gate and mules for carrying gear to base camp.
Tents and cooking equipment and any group equipment
Meals at Base Camp provided with group tents, toilets, showers and tent space
Dried food for the high camps
Professional expedition leader Jason Black and assistant mountain guides – on a ratio of 1:5
Porters for some group equipment – tents, stoves, fuel and food
International airfare to Mendoza
Climbing permit for Aconcagua.
Meals in Mendoza and in Puente del Inca – estimate USD$20 for a dinner with drinks
Personal equipment and expenses
Medical/Evacuation insurance
Stand on the highest point of South America
This is a great expedition for aspiring mountaineers looking to really stretch themselves and tackle some higher altitudes. The mountain itself is challenging and should not be underestimated but with sufficient preparation and training will be a significant achievement to stand on the highest point of South America. It can be dangerous but there is a procedure for rescues off the mountain and the Rangers are very helpful, plus there is a helicopter service that will take people down to the gate.
Mount Aconcagua has two summits, north and south, joined by a ridge called the Cresta del Guanaco which is nearly one kilometre long. Other ridges radiate from each Aconcagua summit, and the whole massif is isolated from other peaks. Shaped like a giant wedge, it has a very steep and massive face to the South and a gentler slope to the North. The huge Polish glacier flows to the East and a series of arêtes and couloirs flank it on the West. The view from the top and from the Cresta is particularly dramatic and well worth the effort of
The expedition is 19 days in-country, but this does not include flight times or extra days in-country. Many people choose to arrive a day or so early to acclimatise to the climate and overcome the long flight, and of course some people stay on afterwards to visit the vineyards and enjoy the area round Mendoza.
Day 1
Team arrive, Hotel. Meal - dinner in Mendoza
Day 2
Get permits am, rest. Meal - Mendoza
Day 3
Transfer to Mountain. Meal - Depart midday, camp near park gate
Day 4
Pampa de Lenas. Meals - Breakfast, Pack lunch, Camping dinner
Day 5
Case de Piedra - Meals - Breakfast, Pack lunch, Camping dinner
Day 6
Plaza Argentina. Meals - Pack lunch, BC dinner
Day 18
Walk to gate, bus to Mendoza. Celebration team meal. 
Vacas Valley suggested climbing plan
Day 7 - Casa Piedra to Pl Argentina
Day 8 - Carry to C1, back to BC
Day 10 - Carry to C2, back to BC
Day 14 - Camp Colera or possible summit from C2
Day 18 - Base Camp to Pampa de Lenas
Our expedition teams are normally between 5 and 10 people. Jason Black is the expedition leader and is currently the world record holder on Aconcagua setting the fastest traverse in history, 18 hrs from Argentina base camp to summit to playa de mulas base camp.
The guide to member ratio is never more than 1:5 on Aconcagua.
We do expect that our teams show involvement in the jobs of cooking and camping above base camp, so experience of camping and cooking in a tent is important. The success of the trip is partly in providing good personal preparation for every member, and developing the camaraderie and team effort that is the hallmark of any safe trip in the mountains.
The carries are done by the team, with everyone helping to move supplies to the high camps, but there are Aconcagua porters at base camp who can be hired.
In the event of a rescue on Aconcagua, the national park rangers are very well experienced in how to extract members and a helicopter on standby 27/7. 
Climbing in Mount Aconcagua
Much of the Climbing is on scree and rock. Although there are no permanent snow fields (not including the glaciers, which are technical routes), crampons and a walking axe are still required for the higher sections. Sometimes the final thousand metres of elevation is covered with snowfall which can be consolidated into hardpack or ice, and any person contemplating Aconcagua should be prepared for extremely cold conditions and the need for using equipment competently. This means walking safely on crampons and knowing how to use an axe to arrest a slip, and using poles efficiently.
Summit day is a big mountaineering day, but the terrain never requires highly technical skills. It is a long hard ascent, and there is considerable exposure to the elements and of course to the altitude. The weather patterns will determine if you spend the day mostly on snow, ice or rock, but expect everything and be prepared with correct warm clothing and good double boots.
The most infamous feature to overcome is the Canaleta, which is a gully choked with boulders that is quite unremitting and hard work. Sometimes you will be on rock, other times it will be covered in snow and often is it hardpack and ice, but either way it is important to watch your feet and be able to move safely on crampons. Coming out of the gully, the route traverses the top of a large amphitheatre and ends up on the final ridge to the summit, with classic views over the south face. There is a bit of scrambling to the summit, but it is not difficult
Base Layers
Synthetic Short Underwear (2-3 pair): non-cotton style underwear
Lightweight Long Underwear (1-2 pair): long sleeve shirt and long pants
Heavyweight Long Underwear (1 pair)
Short Sleeve Synthetic Shirt (1-2)
Mid Layers
Soft Shell Jacket: to be worn over other layers
Soft Shell Pants: very breathable and water repellant
Lightweight Nylon Pants (optional)
Windproof/Rain Layers
Hard Shell Jacket with hood: waterproof and breathable shell jacket
Hard Shell Pants: waterproof and breathable shell pants
Insulation Layers
Insulated Down or Synthetic Jacket with hood
Insulated Pants (optional)
Headwear
Warm Hat: synthetic or wool hat (ski hat)
Balaclava: to protect your neck and face in high winds
Baseball Cap or other sun hat: to shade your face/neck from the sun on a hot day
Bandana or Buff: to protect your neck/face from the sun
Eyewear
Glacier Glasses: full protection with side covers or wrap around
Ski Goggles: to be worn in the event of high winds
Gloves
Lightweight Synthetic Liner Gloves: for wearing on warm days
Soft Shell Gloves: to wear for moderate cold/wind
Shell Glove with Insulated Liner: to wear for severe cold/strong wind
Expedition Mitts: large enough to fit a liner glove inside
Footwear
Liner Socks (3 pairs)
Wool or Synthetic Socks (3 pairs)
Mountaineering Boots
Hiking Shoes/Boots: comfortable hiking boots
Gaiters
Water Shoes or Sandals: for stream and river crossings
Booties (optional): for wearing around camp
Sleeping Equipment
Sleeping Bag: rated to at least -20°F
Self-inflating Sleeping Pad: full length is preferred
Closed-cell Foam Pad: to be used in conjunction with the inflating pad for warmth and comfort when sleeping
Earplugs
Mountaineering Gear
Expedition Backpack: approximately 105L
Compression Stuff Sacks: for reducing the volume of the sleeping bag, down parka, etc. in your pack
Trash Compactor Bags: to line backpack and stuff sacks as well as for separating gear
Backpack Rain Cover (optional)
Trekking Backpack: to carry on the trek to base camp. Simple and light.
Trekking Poles with Optional Snow Baskets: adjustable
Ice Axe: general mountaineering tool (~60cm)
Crampons: general mountaineering crampons
Climbing Helmet (optional): must be able to fit over your warm hat
Headlamp: with 2 extra sets of new batteries
Travel Items
Large Duffel Bag with Lock: for transporting gear to base camp on the mules, no hard sides or wheels
Small Duffel Bag with Lock: to store items in the hotel(s) while on the climb
Travel Clothes: for days in cities and towns
Lightweight journal, sketchbook, pencils, pen
Currency to exchange to purchase SIM cards or merchandise in cities and villages
Additional Food Items
Snack Food: bring a few days' supply of your favorite climbing snack food such as bars, gels, nuts, beef jerky, etc. variety of salty and sweet is good
Other Equipment
Cup: plastic 16 oz. minimum cup or mug
Bowl: large plastic bowl for eating dinner or breakfast
Spoon: plastic spoon (Lexan)
Water Bottles (2): wide mouth bottles with 1-liter capacity
Water Bottle Parkas (2): fully insulated with zip opening
Thermos (optional): 1-liter
Water Treatment
Sunscreen: SPF 40 or better
Lip Screen (2 sticks): SPF 30 or better
Toiletry Bag: include toothbrush, toothpaste, toilet paper, baby wipes and hand sanitizer (2 small bottles)
Pee Bottle: 1-liter minimum bottle for convenience at night in the tent
Female Urination Device (FUD)
Knife or Multi-tool (optional)
Small Personal First-aid Kit: include athletic tape, band-aids, Ibuprofen, blister care, etc.
Medications and Prescriptions: bring antibiotics (Azithromycin, etc.), and altitude medicine such as Diamox, etc.
Handkerchiefs/Bandanas (optional)
Optional Electronics